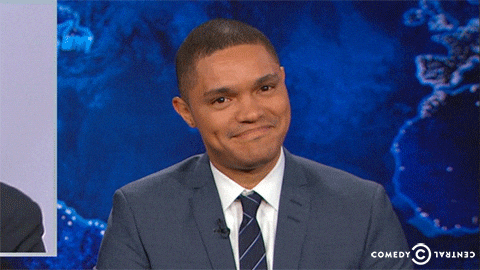 Yes, an audiobook you can sink your ears into – since teeth obviously do not make sense.
5 disco balls
Published: November 15, 2016 by Audible Studios
Audiobook runs 8 hours 50 minutes, narrated by Trevor Noah himself (love that accent!)
Category: Memoir, Autobiography, Nonfiction,  Coming of Age
#8 Most Read on Amazon Charts
Highest-rated new book of 2016 by Audible customers
Winner: Audible's Best of 2016 – Celebrity Memoirs
I prefer reading books versus listening, but do enjoy an audiobook while driving or doing chores. But, for an audiobook to keep my attention the narrator has to be on point. To me, this book is better as an audiobook since the author is the one reading his story. Trevor Noah knows how he wants his story to come across, and delivers his message with a tone and authenticity that makes it hard to push pause…plus, hello that accent – swoon!
I have listened to two other celebrity memoirs narrated by the author, but neither compare to Born a Crime. It's not about Noah's rise to fame or how he navigates his celebrity status. I learned about history: what it was like for Noah to grow up during, and after, apartheid in South Africa as the son of a white father and black mother. Using humor Noah tells of tales that discuss how race, language, socioeconomic status, and politics have affected his upbringing.
To me, Noah was not the star of his story: it was his mother, Patricia Nombuyiselo Noah. She is strong, confident, hardworking: a fighter. You will have to listen for yourself, but you won't be able to stop smiling at some of the lessons she taught a young Trevor. The will of that woman is extraordinary.
Give this one a listen, you will not be sorry you did.
Have you listened/read 'Born a Crime'? Have a favorite story/lesson from it – do tell?
Purchase Links
Amazon
Barnes & Noble



Please note: this post contains Amazon and B&N affiliate links. If you purchase this book through the links above I will earn a small fee; at no additional cost to you. This will help me purchase more books to read and recommend to you all!