4 disco balls
Published: June 25, 2019 by Ballantine Books
Category: Women's Fiction, Chick-lit
Need a summer read with a little bit more oomph? I'm talking secrets, some family drama, and learning to find oneself. Then this book is might be your perfect oceanside, poolside, lakeside, heck even cozy couch read. It's not super dramatic on the oomph front (has just enough): its authentic and had just the right amount of humor.
Onto quick book synopsis: Young widower Evvie Drake rents an apartment in her big, lonely house to Dean Tenney, a former Major League Baseball star who "lost his arm." Both battling inner demons: everyone thinks Evvie's is extreme grief but Dean will learn the truth. Will their friendship be exactly what these two need to "move on," or does it enable them to hang on to what needs releasing?
I felt like Evvie could have been a real person, and hell if Dean were real I would be on the hunt (just kidding – my husband wouldn't really appreciate that – I was just trying to make a point). If I were a casting agent and Evvie Drake Starts Over were to be a movie than here are my leads: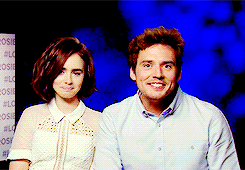 Lily Collins and Sam Claflin were in Love, Rosie (2014) together and its my personal opinion that they would be the perfect Evvie and Dean. If anything, when you read it you can picture them as your leads too. You're welcome. 😉
I alternated between the audiobook (my favorite narrator Julia Whelan at the helm) and reading the book. I enjoyed both and recommend that you add this one to your summer reading lists. Happy Reading!
Thank you to Random House & Penguin Random House Audio for the free book/audiobook in exchange for my honest review
Purchase Links:
Barnes & Noble
Indigo
Amazon UK
Please note: this post contains B&N, Indigo, and Amazon affiliate links. If you purchase this book through the links above I will earn a small fee; at no additional cost to you. This will help me purchase more books to read and recommend to you all!