3.5 disco balls
Published: March 7, 2017 by Riverhead
Category: Contemporary Fiction, Magical Realism, Fantasy
Man Booker Prize Nominee (2017); Los Angeles Times Book Prize Nominee for Fiction (2017); National Book Critics Circle Award Nominee for Fiction (2017); Andrew Carnegie Medal Nominee for Fiction (2018); Folio Prize Nominee (2018); Kirkus Prize Nominee for Fiction (2017); Goodreads Choice Award Nominee for Fiction (2017); Brooklyn Public Library Literary Prize Nominee for Fiction (2017)
This book is deep dude.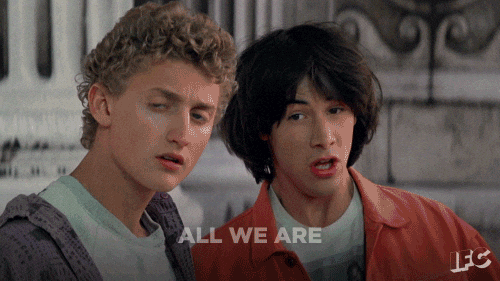 But, in all seriousness, author Mohsin Hamid did an exceptional job at conjuring up my inner psyche and putting it to work. The first half of this book I was sucked in and kept stopping and thinking "wow, what would this be like for me?" and even more so "this is all too relevant and that is scary."
Saeed and Nadia's birth home is a conflict zone on the brink of war. They will start a relationship at first based on infatuation and will quickly end up being each other's only stable constant. They will escape through a door that teleports them to another place, safe from the destruction happening at home but becoming migrants which leaves Saeed nostalgic. Their relationship is based on survival, and what each knew of each other will secretly disappoint them when their environment ultimately changes them.
The Social Science major in me ate up this book. My goodness did I have so many feelings, but we already established that. At the migrant camps, everyone was a migrant and fleeing danger but some still treated each other differently – or at least perceived each other differently – based on their backgrounds (not their common ground of just wanting to be safe). Saeed only wanting to socialize with those from back home, Nadia looking for a place in her new home. I want to say so many things, but I do not do spoilers so I will leave it at that.
Why 3.5 stars? The first half came out strong for me, but I became a bit deflated at the second. Not that it wasn't well written, I can't explain it without giving anything away. I think you should read it, so we can discuss it. Please and thank you. 😉
You can read this book in two sittings, its a very quick page turner. I stayed up way past my bedtime to read the last 60 pages, as I was so close to finishing that I just wanted to be able to close that cover and feel accomplished.
On a side note: the book cover is gorgeous and I love it. It makes a lovely addition to any bookshelf. #BooksareHomeDecor
I had to read Exit West for book club and can't make the actual meeting, but would have loved to discuss this book in more detail with others; heck, I need to! For my book club readers: I still read the book – do I get a gold star ⭐?
Did you read it? Let me know, we have so much to discuss.
Purchase Links
Amazon US
Amazon UK
Barnes & Noble

Please note: this post contains Amazon and B&N affiliate links. If you purchase this book through the links above I will earn a small fee; at no additional cost to you. This will help me purchase more books to read and recommend to you all!